FastBay
FASTBAY
is the professional solution to
sync your Prestashop site with your eBay store in a few minutes


Easy
The simplified configuration allows you to customize without any problems all settings to load and manage perfectly your products on eBay.
Reliable
Our premium module will follow you in every step of sync process and if you need assistance we guarantee a ticket service within 48 hours
Flexible
FastBay has many features that allows you to make a flexible site management that will suits all your needs.
The fastest
With our FastBay module your 'waiting times' will be reduced beyond belief ! Sync in a few minutes more than 5.000 products!
Performance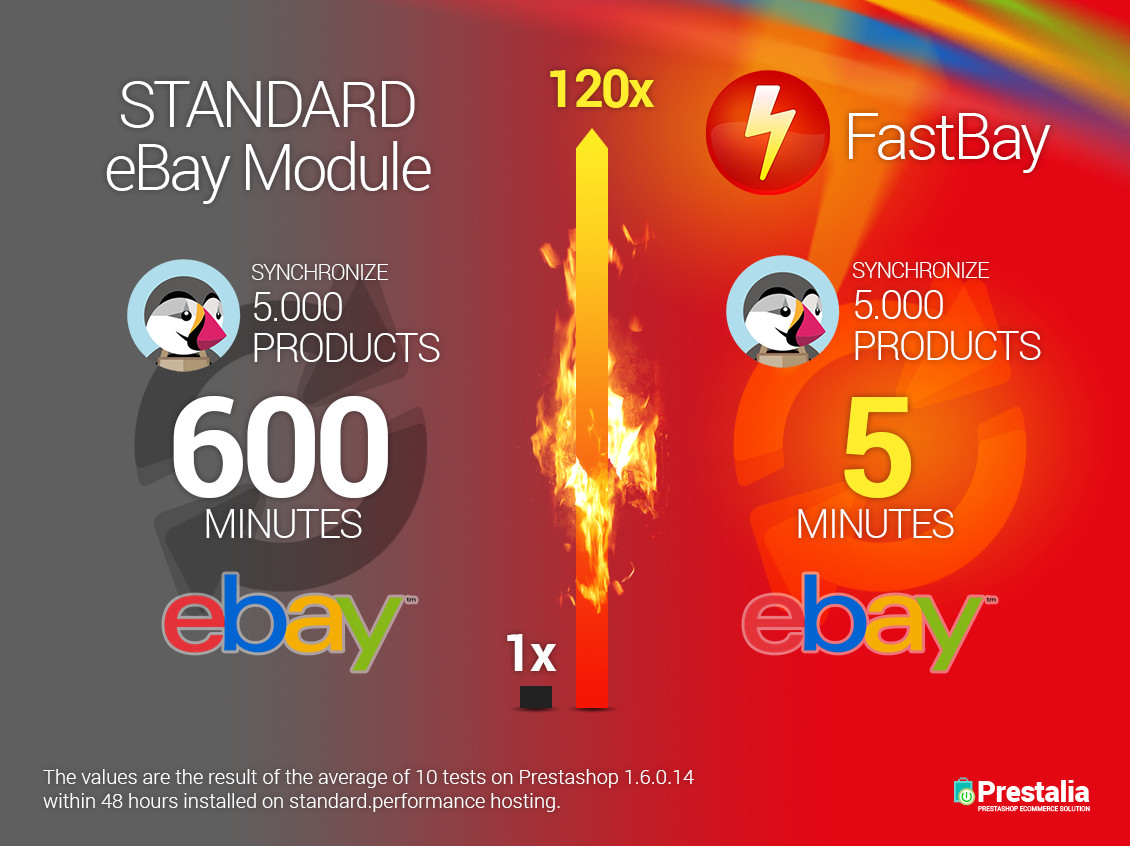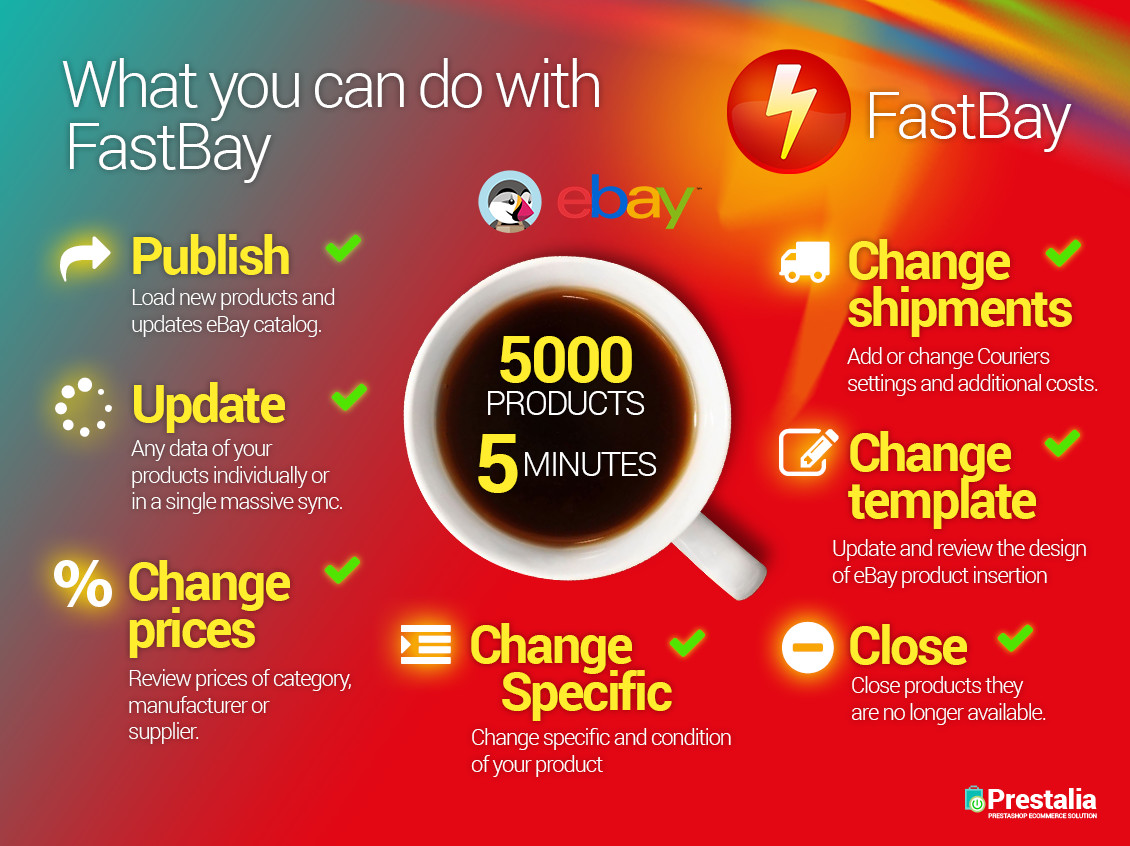 ALL FEATURES:
Fast Setup
The easy configuration of the module will permits to you to goes online in few minutes.
Prestashop Categories
Associating your site categories with eBay's categories is easy and fast and also you have the possibility to handle customized recharge.
eBay Store Categories
You have the possibility to associating categories of your Prestashop site to categories on your eBay store.
Specs and Conditions
Complete management of eBay's specifics with the possibility to associate attributes, features, manufactures and default eBay's values
Manifactures and Suppliers Recharge
You can handle personalized recharges also on suppliers and manifacturers.
Shipping and Couriers
You can handle national and international shipping times with dedicated options for additional costs
Items Template
Load and handle personalized template using the HTML editor
eBay Orders
Manage your orders directly on your Prestashop site no more needs to go on eBay
Manage single product
You can manage eBay's fields of a single product , directly on product sheet, including custom description , price , shipping costs and EAN code
Synchronization
You have the possibility to sync in single-mode or in massive mode, also directlyby product sheet
EAN Utility area
Thanks to new control capabilities you can check the validity of the EAN codes of all the catalog prior to synchronization.
Customer Care
Of course we can offers directly assistance by ticket for any problems regarding installation, configuration and others things.
COMPATIBILITY AND MINIMUM REQUIREMENTS
Software Prestashop

1.5.x

-

1.6.0.x

-

1.6.1

Software IONCUBE installed on server
Not compatible with Prestashop Cloud
Screenshot:
USERS:
FASTBAY IS USED FOR MORE THAN 350 CUSTOMERS WORLDWIDE WITH OVER 1,150,000 ACTIVE LISTING ON EBAY. FOLLOWING AN OVERVIEW OF LATEST store:
Trade Shop

Iberia PC

ConMat

Joomoda

Estea Casa

Gioiellino Shop

La Rosa Ricambi

Libreria Semola

E 84

Levante Shop

Le Bricò

Love Italian Food

Elettrousato

Moda brand

Nou shop

Cianfrocca

Ben to usa

Italy Hitech

Spaccio Truppa

Outlet Dress

Clikka & Compra

Freedom Lab

Aria Street Fashion

Papers & Rares

Ferramenta Giusti
FREQUENTLY ASKED QUESTIONS:
Why buy our FastBay module?
FastBay will speeds up the entire management of the import of your products and your catalogs on eBay, saving your resources in terms of cost and time: this allows you to quickly get a percentage of a significant economic return compared to one had with using classical tools.
How to install the module?
Installing FastBay is really easy, once loaded you just go to the Modules tab of your Prestashop back office and click on "Install"
How do I make the base configuration?
The first time you use FastBay you will need to configure the tab "configuration" of the module. First, enter the details of your eBay account and download the token with the appropriate button. After the data sets of your city, the preferences of states, reload, shipping time and method of payment. Remember to save your configuration using the button at bottom of page
Can I test the module before purchasing it?
For sure. We offer the opportunity to let you try it for free for 7 days. Send us your request by compiling the inquiry form.
Request a demo
.
What are the licensing type of the module?
The module is released with time unlimited license for 1 domain for Prestashop version that you choosen. By purchasing the "unlimited upgrade" when you install a new updated ersion of Prestashop, you are eligible to update the module at no additional cost.
How works the orders management?
Orders are daily downloaded from eBay, you can view them just like any other order in the 'Orders' tab panel of your site. The order status is automatically updated to and from eBay. You can also download eBay orders manually with the button tool provided in the 'Orders' tab of your FastBay module
Can I customize the modules or have others specific solutions ?
Prestalia also provides a complete customization for your website, customization on modules, templates, scripts, functions, and much more. Contact us via the contact form on the site to request quotes or receive information.
If in the future i'll manage other new eBay accounts in different languages can I manage them?
For sure. The module EBAY REVOLUTION +1 allows you to publish a second account on eBay or other countries. The installation of the module EBAY REVOLUTION +1 is permitted only after you have purchased the BASIC version.