CSV catalog import
CSV IMPORT DOWNLOADS allows you to automate the import to Prestashop. Transforms, imports and upload your csv file, for example resulting from DropShipping suppliers, warehouse and export files created manually.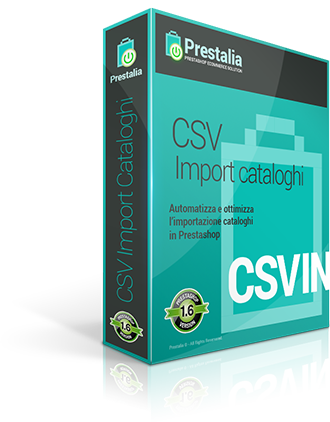 CSV IMPORT DOWNLOADS is a module that allows you to import and your site Prestashop 1.4.X - 1.5.X - 1.6.X catalogs in CSV format resulting from your ERP, created manually or by providers Dropshipping as Pixmania, Esprinet, Italian Green Web , Icintracom, Lindy, etc. .. by purchasing the module CSV IMPORT DOWNLOADS purchases not only a form, but we will create for you a CSV MANAGER that will allow you to keep synchronized so scheduled your Prestashop catalog with the data warehouse of the chosen provider.
ESSENTIAL
The module allows you to automate the final synchronization of the warehouse in a fully automated way.
PROFESSIONAL
A product punctual and precise that will follow in all phases of the synchronization process and in case of need assistance within 48h
FLExIBLE
A large number of settings that allow you to make your import flexible and suited to your needs
CUSTOMIZABLE
The module is configured in the CUSTOM version on the basis of your files and your specific needs by giving you guaranteed to get exactly the required result.
Key features:
Import products from CSV file in Prestashop
Ability to select the categories you want to import
Ability to map categories from supplier to store
Management reloading prices
Import automatable
SEO Metatag Management
Managing multi photo products
Customizing
We can customize your import on the basis of specific needs: mathematical operations on columns, merge fields, formatting, etc. ..
Avaiable version
The module CSV catalog import allows you to import CSV import catalogs and synchronize the warehouse with Prestashop catalogs Dropshipping or your CSV adapting it based on your needs. It 'compatible with versions of Prestashop

1.4.x

-

1.5.x

-

1.6.x
FEATURE DETAILED TABLE
| Feature | Versione 1.4 /1.5 /1.6 |
| --- | --- |
| Import products from CSV files | |
| Selecting categories to be imported | |
| Mapping categories supplier / shop | |
| Management of reloading prices | |
| Automated and schedulable import process | |
| Management SEO metatags | |
| Multi-foto management | |
| 1 Import CSV catalog Dropshipping standard * | |
| Import from custom CSV file | a preventivo |
| Multi CSV import catalog | a preventivo |
| Customizing with transaction / formatting tailored to quote | a preventivo |
| Customizing mapping multilingual quote | a preventivo |
| License | Unlimited time 1 domain |
| Trial version | no |
| Startup configuration support | 7 days |
| Bug report ticket | Unlimited |
| Dedicated Ticket out of warranty | 49,90€ |
* Pixmania, Esprinet, Italian Green Web, Icintracom, Lindy, etc. .. Contact us for an updated list.
Minimum requirements:
Software Prestashop

1.4.x

-

1.5.x

-

1.6.x

Software IonCube installed on your server