Cash on delivery + FEE
CASH ON DELIVERY + FEE allows you to add a custom commission payments on delivery.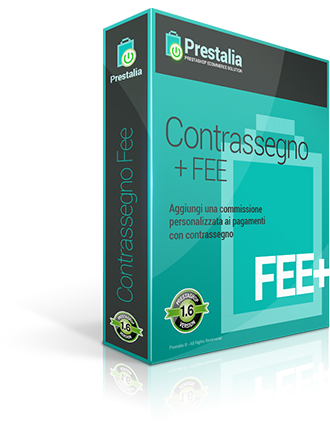 This module allows to apply additional costs whenever the customer chooses to pay by COD, allowing to compensate your additional costs. Fees can be applied according to price ranges, by a percentage or/and a fixed value, and you can fine tune to what products they should be applied: in fact you will be able to filter by shop, countries, carriers, categories, manufacturers, suppliers and products. But wait, it's not over yet! Our module lets you customize the front-office COD icon and enable/disable COD right in the product page.
Avaiable version
The module is compatible with versions of Prestashop

1.6.x
DETAILED FEATURE
| Feature | 1.6 |
| --- | --- |
| Choose products filtering by Shop, Countries and Carriers | |
| Choose products filtering by Category, Manufacturer, Supplier and product list | |
| Create and manage price ranges, Create percentage or fixed fees | |
| Manage COD activation right in the product page | |
| Manage the payment icon | |
| Manage products in multi-shop mode | |
| License | Unlimited time 1 domain |
| Trial version | no |
| Support | Ticket or e-mail |
MINIMUM REQUIREMENTS:
Software Prestashop

1.6.x
Screenshot: